Conceptualizing the "Buzz" Phase of Resource Extraction: The Case of Liquified Natural Gas (LNG) in Northwestern Canada


By Marieka Sax (marieka.sax@unbc.ca)

Paper presented at the Joint Conference of the Canadian Anthropology Society and American Anthropological Association, Vancouver, BC, November 23, 2019. Please do not cite without permission of the author.
Can natural resource development generate community impacts even before it begins?
LNG comes to British Columbia


In October 2018, a consortium of international investors announced that construction would move forward on their $40 billion (CAD) liquefied natural gas (or LNG) project. The investor group was comprised of Shell Canada Energy, the Malaysian-owned PETRONAS, PetroChina, the Japan-based Mitsubishi Corporation, and the Korea Gas Corporation (LNG Canada 2018; Pearson 2018; The Canadian Press 2018). From 2013 – 2018, the proposed project was the focus of significant public consultation, government assessment, business speculation, and regional debate (see Mordant 2017; Peebles 2018).

The plan is for a sprawling facility on Canada's northwestern coast to super-cool natural gas into liquid form for transport to Asian markets. Prime Minister Justin Trudeau declared it the "single largest private sector investment in the history of Canada" (Schmunk 2018). BC Premier John Horgan added that it was a "spectacular day for all British Columbians" decades in the making (Zussman 2018).

People across northern British Columbia collectively exhaled and rolled up their sleeves. This "final investment decision" (FID) took place after five years of environmental assessment by the provincial government, agreements negotiated with First Nations, consultations with community members and regional stakeholders, and much public and private discussion. The project is called LNG Canada, and it will bring natural gas from outside of Dawson Creek in the northeastern corner of the province to a processing plant and export terminal at the town of Kitimat, some 670 kilometres away. Kitimat is situated on an inlet of the Douglas Channel, which leads out to the Pacific Ocean. It is a striking location characterized by deep fjords that cut into the Coast Mountains, which are covered in old-growth forest. This strategically chosen spot offers a deep port with one of the shortest sea routes from Canada to Asia.

The facility will include at least two LNG processing units called "trains"; LNG storage tanks and loading lines; a marine terminal, rail yard, and water treatment facility; two flare stacks up to 125 metres tall; and accommodations to house up to 7,500 workers (https://www.lngcanada.ca/index.php?p=about-lng-canada/).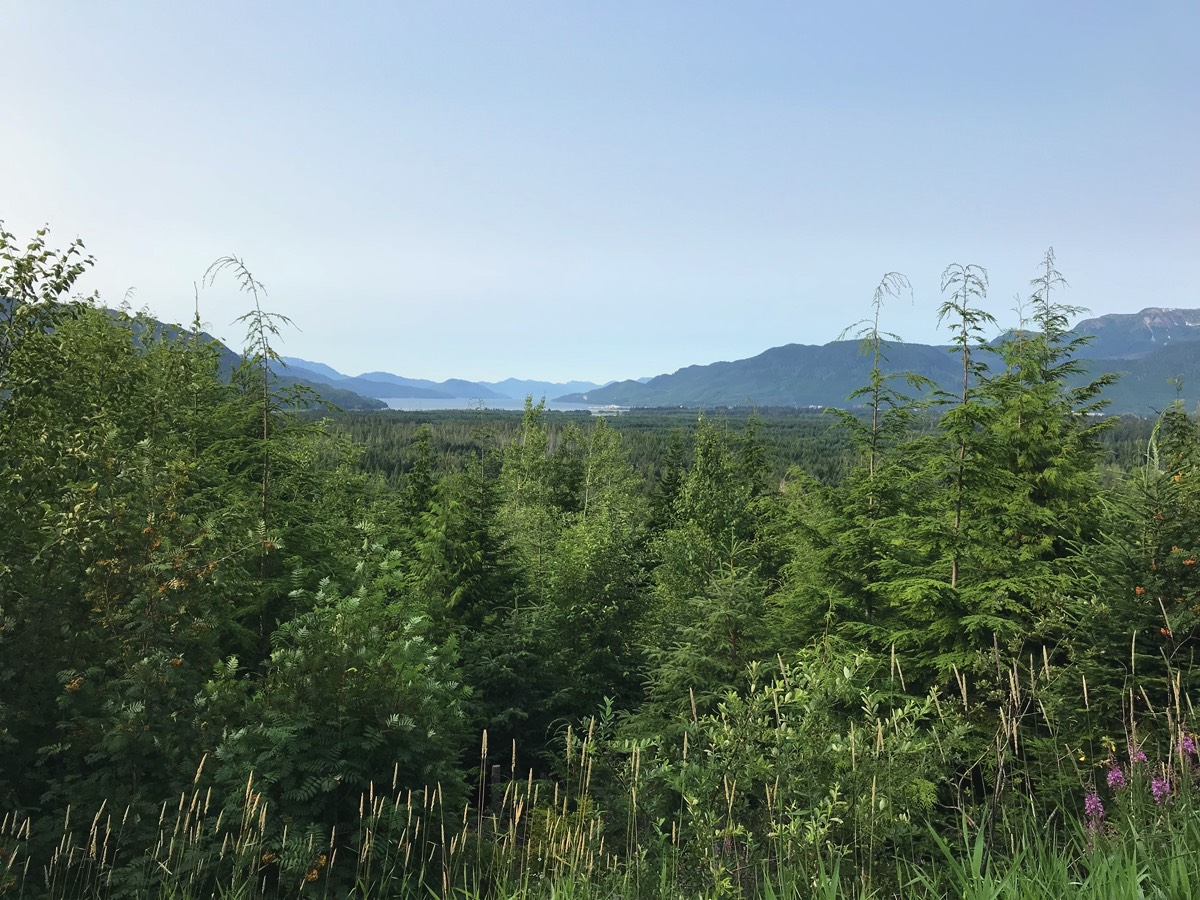 A view of Kitimat, overlooking the Douglas Channel. Photo M. Sax, July 2018.
Hopes and concerns associated with LNG development

Both the project proponents and provincial government claim that LNG Canada will provide clean energy to help China transition away from coal-based power. However, research and analysis show that the extraction, processing, and transportation of natural gas will bring significant environmental impacts to British Columbia. The liquefication facility in Kitimat will require massive amounts of natural gas itself to operate, such that it will become BC's largest single source emitter of greenhouse gases (Lee 2019). According to the Canadian Centre for Policy Alternatives, the province will be hard-pressed to achieve its legislated greenhouse gas reduction target for 2050 once LNG Canada comes online (Lee 2019; Hughes 2015).

As important as this is, people who live and work alongside LNG development often have other concerns on their minds – such as jobs, access to services, and quality of life. Promotional material claims that LNG Canada will employ approximately 4,500 people during five years of construction, and that it will create up to 450 permanent jobs during the 40 years of planned operation. The facility is expected to provide millions of dollars in municipal and provincial tax revenues; generate procurement for goods and services along with indirect jobs for local and regional businesses; and help drive economic growth throughout BC and Canada (LNG Canada 2018).

Yet people know that even if these much-needed economic benefits materialize, the project will also bring profound social impacts. Based on their previous experiences of industry booms, people told me this would include shortages in affordable housing and access to childcare, and a rapid influx of a large, mostly male, and relatively transient worker population.

Far more than just abstract possibilities, the hopes and fears associated with LNG development have real consequences for people living and working in zones of extraction, transportation, and processing.

LNG Canada's final investment decision announcement set in motion a bustle of commerce and activity keenly felt throughout the northern half of the province. The period of construction implicates much more than the facility in Kitimat. Other corporations are involved in extracting the natural gas in the east, and building the Coastal GasLink pipeline westward, which will cross the unceded traditional territories of 20 First Nations (Bellrichard 2019). Regional contractors will build supporting infrastructure, such as roads, inspection stations, electrical and plumbing lines, and worker accommodation, and provide services such as security, first aid, and cleaning. Municipalities and business owners across the supply chain can expect an uptake in demand for everything from food and entertainment to housing and health services.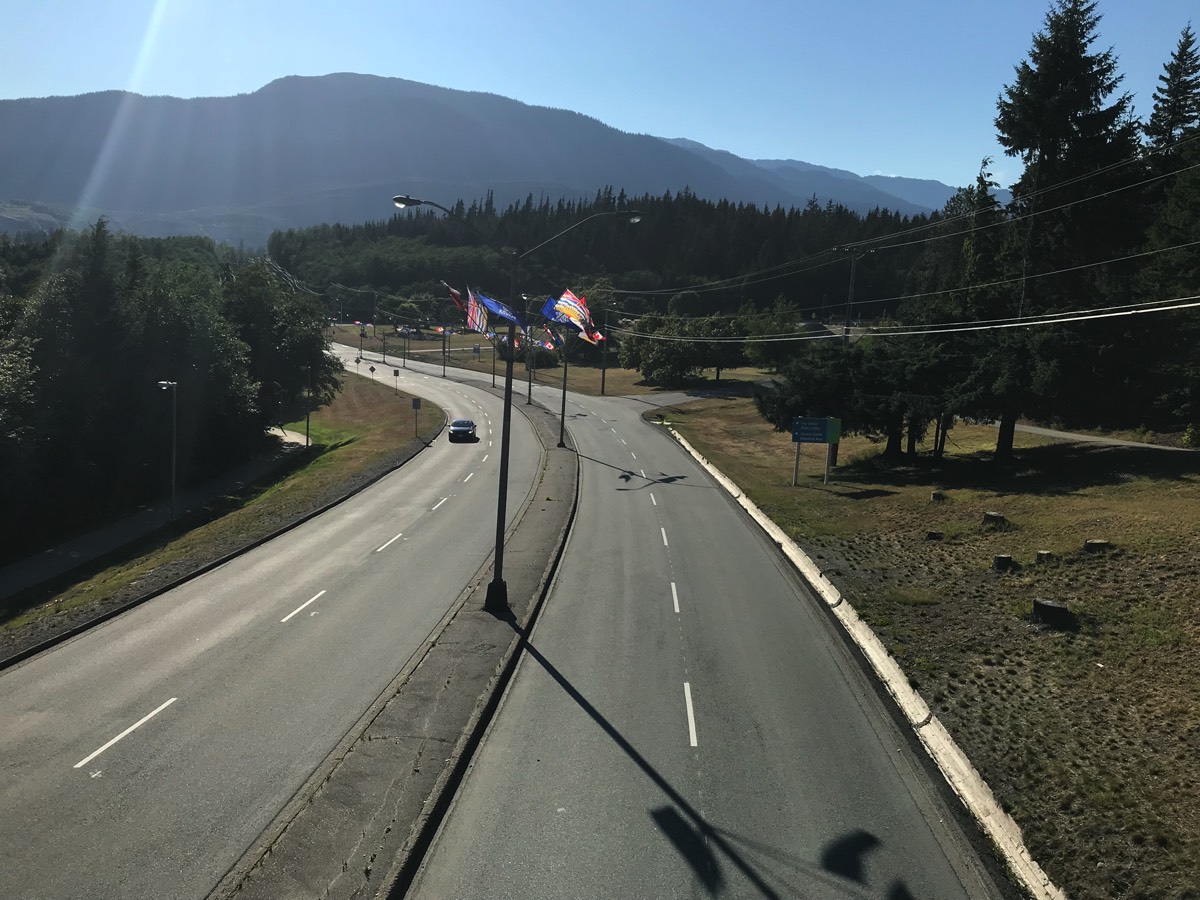 Entering Kitimat on Highway 37. Photo M. Sax, July 2018.
The town of Kitimat, BC


This is just the latest chapter in the fascinating history of Kitimat, a town of around 8,000 people, whose population expands and contracts with the booms and busts of natural resource industries. It was built by the Aluminum Company of Canada (now Rio Tinto Alcan) in the 1950s to house the workforce for their newly constructed aluminum smelter (Cross 2016). The town is in the unceded traditional territory of the Haisla Nation, whose band office is in nearby Kitamaat Village.

Kitimat is physically and conceptually situated on a remote edge of British Columbia, 20 hours by road north of Vancouver, or two hours by plane from the hub city of Prince George. Although very close to the geographic centre of the province, Prince George is the gateway to what is called "northern BC," a region roughly the size of France. Over the past 150 years, this "peripheral" region has been treated as both frontier for developmental dreams (Peyton 2017) and a "sacrifice zone" (Bullard 1993) for the extraction of minerals, timber, fish, and oil and gas. The economic benefits of these natural resources are concentrated downstream in metropolitan "cores," which at various levels of analysis could be Vancouver, Ottawa, or the overseas offices of transnational corporations.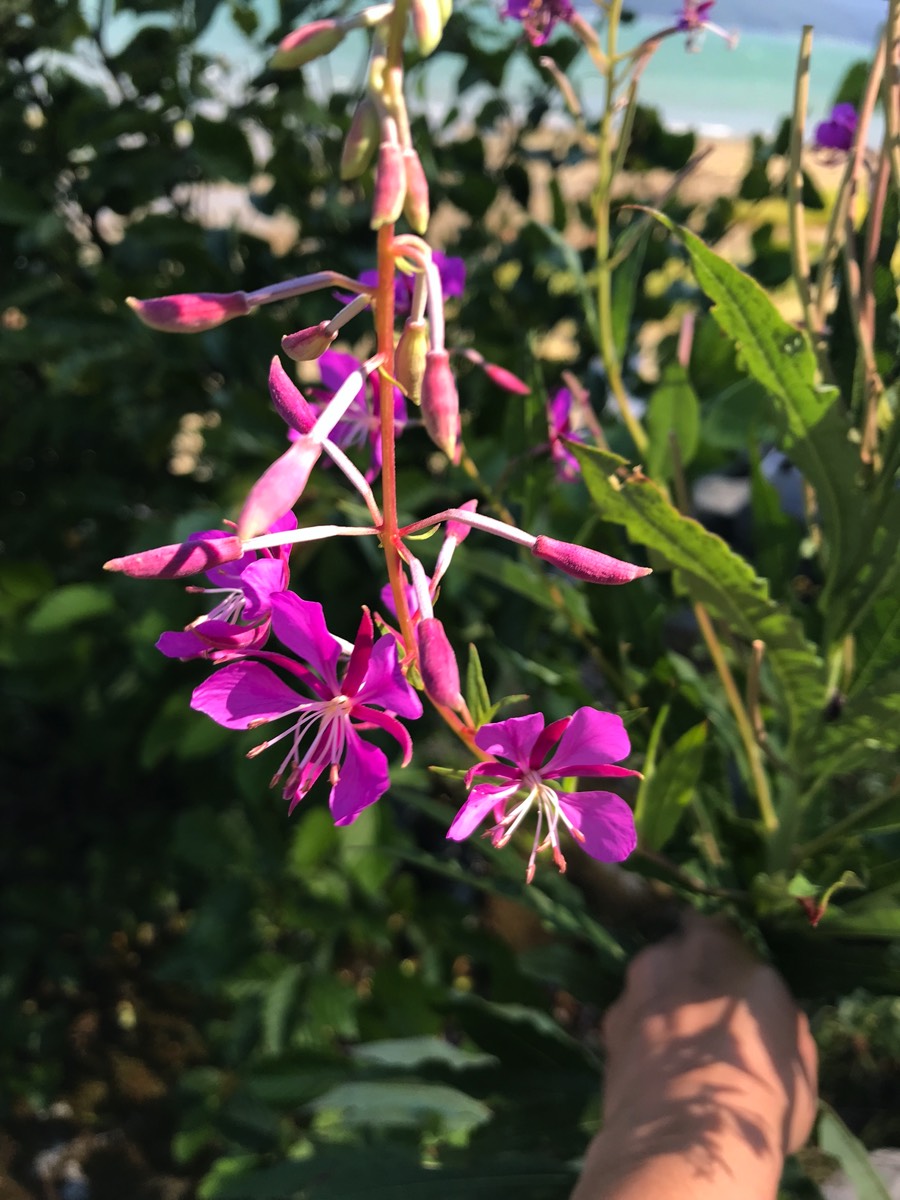 Fireweed, a common summer wildflower throughout northern BC. Photo M. Sax, July 2018.
The provincial context

LNG development has been a topic of intense debate and speculation since the provincial government released their LNG Strategy in 2012 (see BC MEM 2012; Hughes 2015). British Columbia produces almost a third of Canada's gas, while Alberta accounts for much of the rest (Hughes 2015). Production has largely been driven by "unconventional" natural gas development, which refers to horizontal drilling and hydraulic fracturing. In "fracking", a water-based fluid is injected under high pressure into a well to create cracks in deep rock formations, which allows natural gas to flow more freely. Once extracted, the natural gas can be supercooled into liquid form at -162 degrees Celsius. So that's liquefied natural gas.

Whether for or against LNG, many British Columbians knew it was never a foregone conclusion that the years of buzz around the hoped-for industry would actually result in a multi-billion-dollar export facility. Indeed, in the summer of 2017, another major LNG project proposed for the nearby city of Prince Rupert was scrapped. This was after a four-year process that secured all the necessary approvals and permits. That project – called Pacific Northwest LNG – was terminated after the PETRONAS-led consortium of investors pulled out, citing market oversupply and low natural gas prices (Eagland 2017; Ghoussoub 2017; The Canadian Press 2017). Nevertheless, regional news outlets were quick to point out that three other LNG proposals had also received all their permits and were also just awaiting a final investment decision to move forward. Two of those proposed projects were slated for Kitimat – namely, LNG Canada and the Chevron-backed Kitimat LNG (Hoekstra 2017).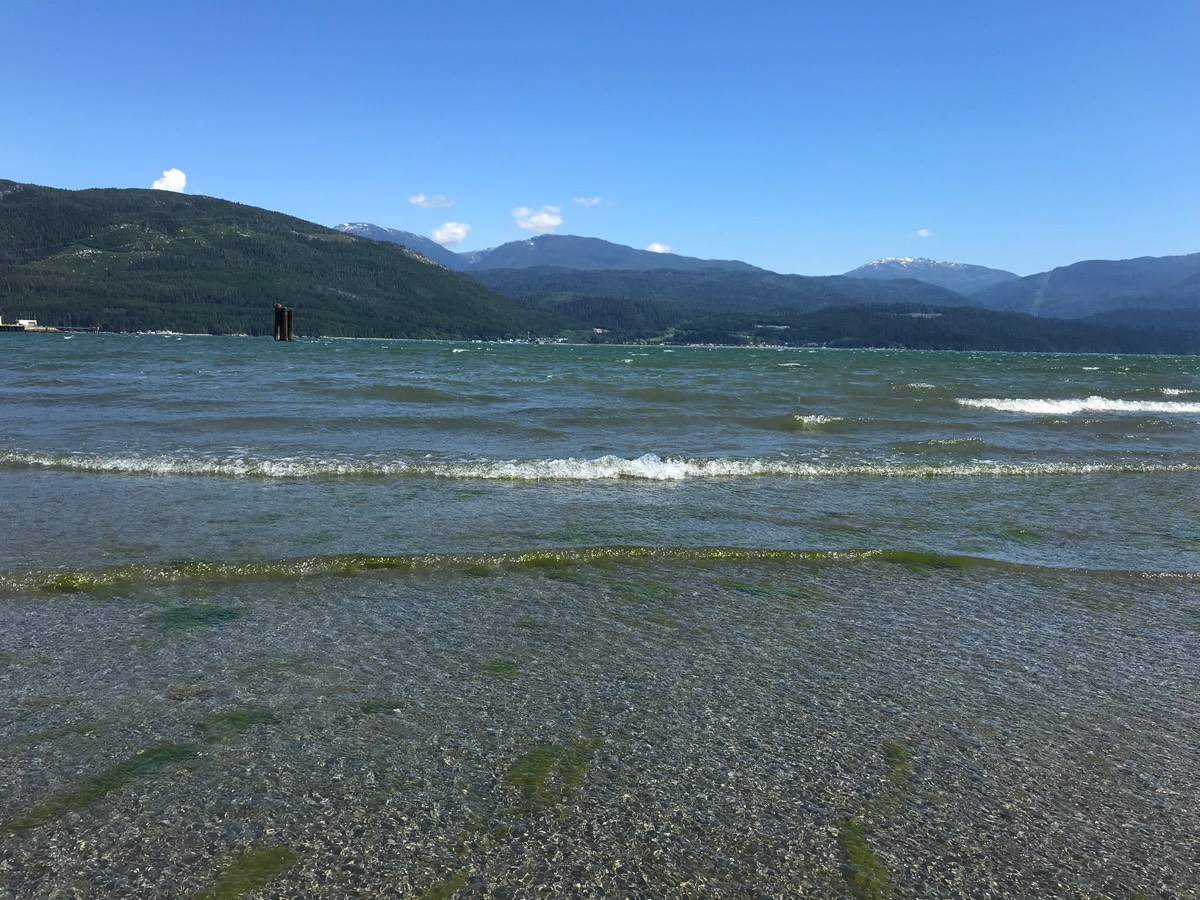 Looking towards Kitamaat Village from Hospital Beach. Photo M. Sax, July 2018.
The buzz phase of resource development


The life-cycle of large-scale resource development projects are often talked about in terms of established phases such as construction, recruitment, operations, maturity, and wind-down. Researchers talk about the social, cultural, health, and environmental impacts of the "boom" of largescale natural resource projects during their operations, and on the consequences of the "bust" of their decline.

Yet little research has directly explored the positive and negative impacts of geological surveys, environmental assessments, stakeholder and rights holder engagement, revenue sharing agreement negotiations, financial speculation, community consultations, supporting infrastructure construction, and other activities that set the stage for a major project.

In testing out the idea of the buzz phase, I have found that people who live, work, and play in northern BC nod in agreement and offer their experiences of how ongoing exploration and development impacts them. The fortunes of many people in towns like Kitimat rise and fall with the booms and busts in natural resource industries.

The local economy and community identity of virtually every city, town, and First Nations reserve across northern BC is in some way grounded in oil and gas, mining, or forestry. In the wider context of ongoing waves of resource booms and busts (Ryser et al. 2014), the buzz of extraction and development is ever-present. Exploration, investment decisions, and proposal development continue, along with anticipation and planning from provincial and municipal governments, regional and local businesses, educational institutions, working families, First Nations rights-holders, environmental activists, and television, radio, and print news outlets. The next major project is expected to be just around the corner, and people should prepare for it, for better or worse.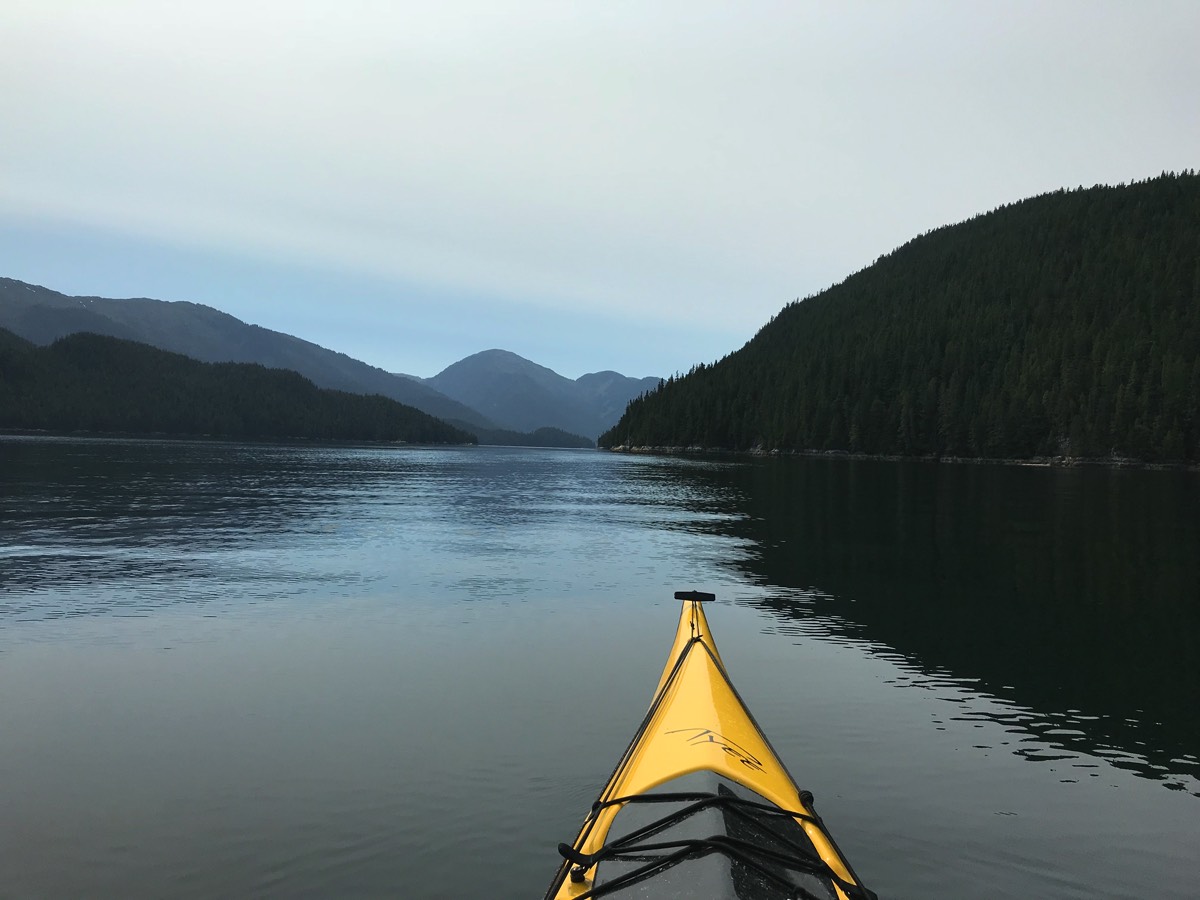 Kayaking in the Douglas Channel. Photo M. Sax, July 2018.
Modalities of impact in the buzz phase

A conventional framing of resource development is along the lines of environmental, health, and broadly defined social impacts. But I suggest looking at five modalities of impact—material, discursive, temporal, experiential, and imaginative.

The buzz can be material, creating jobs, activities, and environmental interventions for exploration, assessment, and consultation. It can be discursive, generating public debates and private conversations about the potential benefits and risks of a major project or resource development in general.

The buzz can be temporal, resulting in opportunity costs at various scales, from individuals to governments, as people make life choices and as decision-making bodies respond to a steady stream of project proposals. It can be experiential, bringing together people in solidarity, amplifying community and interpersonal tensions, and generating psychosocial stress.

And the buzz can be imaginative, supported by and in turn supporting visions of community development and communal betterment, and values of appropriating public goods for privatized gain, underlaid with the continued dispossession and erasure of Indigenous peoples, and the idea that humans are the pinnacle species separate from nature.
The town of Kitimat. Photo M. Sax, July 2018.
Summary


Mines, dams, pipelines, plantations, and wells – major projects that extract natural resources hinge on imagined futures. Yet in the years of preparation to bring such a project into operation, real and often unexpected impacts are experienced by individuals, families, and communities. This is what the buzz concept attempts to get at.

Once something is named, it can become an object of analysis, of critique, and of policy. In drawing attention to an understudied phase of the extractive cycle, the buzz phase of resource development is useful for mobilization, regulation, and planning.

The idea of the buzz uncovers things missed in the very large body of research on the booms and busts of extractive industry. Individual choices for postsecondary education and place of residence, housing and real estate prices, community planning and public infrastructure development, treaty negotiations and land use agreements with First Nations, and the lives and energies of activists and community groups – these are among the everyday areas affected by the assumed inevitability of continuing resource development.

The five modalities of buzz impacts proposed here point to the need for dramatic shifts in policy and practice in order to create spaces for post-extractive futures. If ideas can be seeds for changes in action, the idea of the buzz phase of natural resource development can be helpful in shifting our collective energies.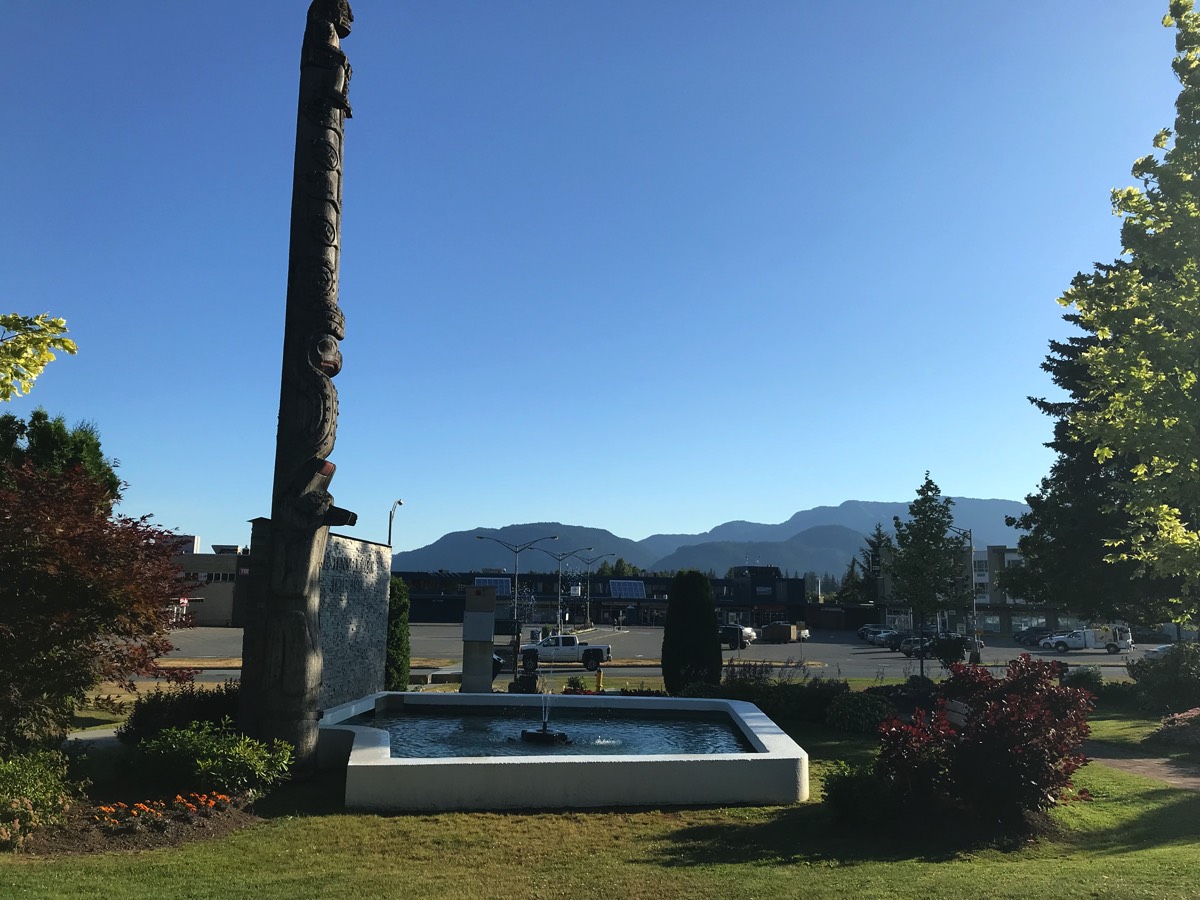 City Centre Mall, quiet before the construction boom for LNG Canada. Photo M. Sax, July 2018.
References


BC Ministry of Energy and Mines. 2012. "LNG: A Strategy for B.C.'s Newest Industry." Victoria, BC: BC Ministry of Energy and Mines. http://www.gov.bc.ca/ener/popt/down/liquefied_natural_gas_strategy.pdf.

Bellrichard, C. 2019. "Benefits agreement asks First Nation to discourage members from hindering B.C. pipeline project." CBC News, August 9, 2019. https://www.cbc.ca/news/indigenous/coastal-gaslink-nak-azdli-whut-en-agreement- 1.5238220.

Bullard, R. 1993. The Threat of Environmental Racism. Natural Resources & Environment 7(3): 23-26, 55-56.

Cross, B. 2016. Modern Living "hewn out of the unknown wilderness": Aluminum, City Planning, and Alcan's British Columbian Industrial Town of Kitimat in the 1950s. Urban History Review / Revue d'histoire Urbaine 45(1): 7–17.

Eagland, N. 2018. "Premier Horgan Responds to Green Leader Weaver's Threat over 'LNG Folly.'" Vancouver Sun, January 26, 2018. http://vancouversun.com/news/local-news/johnhorgan-gives-update-from-10-day-trade-mission-in-asia.

Ghoussoub, M. 2017. "Did Canada Miss the Boat on LNG - or Was the Price Never Right?" CBC News, July 19, 2017. http://www.cbc.ca/news/canada/british-columbia/did-canada-miss-theboat-on-lng-or-was-the-price-never-right-1.4212040.

Hoekstra, G. 2017. "There are now three B.C. LNG frontrunners after Petronas pulls out." Vancouver Sun, July 25, 2017. https://vancouversun.com/news/local-news/there-are-nowthree-b-c-lng-frontrunners-after-petronas-pulls-out.

Hughes, J. D. 2015. "A Clear Look at BC LNG: Energy Security, Environmental Implications and Economic Potential." Vancouver, BC: Canadian Centre for Policy Alternatives. https://www.policyalternatives.ca/sites/default/files/uploads/publications/BC%20Office/2015/ 05/CCPA-BC-Clear-Look-LNG-final_0_0.pdf.

Lee, M. 2019. "A critical look at BC's new tax breaks and subsidies for LNG." Vancouver, BC: Corporate Mapping Project and Canadian Centre for Policy Alternatives. https://www.policyalternatives.ca/publications/reports/critical-look-bc-new-tax-breaks-andsubsidies-lng.

LNG Canada. 2018. "Company Overview." https://www.lngcanada.ca/uploads/subpages/downloads/LNG-Canada-Project-Overview- 2018_Web-Version-AWv4.pdf.

Mordant, N. 2017. "LNG Canada Targets 2018 for Export Terminal Decision: CEO." Reuters, August 3, 2017. https://ca.reuters.com/article/businessNews/idCAKBN1AJ35N-OCABS.

Pearson, N. O. 2018. "'I Would Put Money on It': LNG Canada Dreams Closer to Coming True as Shell Ramps up in Kitimat." Financial Post, July 9, 2018. https://business.financialpost.com/commodities/energy/its-going-ahead-lng-canada-dreamsappear-closer-to-coming-true-as-shell-ramps-up-in-kitimat.

Peebles, F. 2018. "LNG Advocates Rally for Support." Prince George Citizen, January 18, 2018. http://www.princegeorgecitizen.com/news/local-news/lng-advocates-rally-for-support- 1.23148913.

Peyton, J. 2017. Unbuilt Environments: Tracing Postwar Development in Northwest British Columbia. Vancouver: University of British Columbia Press.

Ryser, L., Markey, S., Manson, D., Halseth, G. 2014. From Boom and Bust to Regional Waves: Development Patterns in the Peace River Region, British Columbia. Journal of Rural and Community Development 9(1): 87-111.

Schmunk, R. 2018. "$40B LNG Project in Northern B.C. Gets Go-Ahead." News. CBC News. October 2, 2018. https://www.cbc.ca/news/canada/british-columbia/kitimat-lng-canada- 1.4845831.

The Canadian Press. 2017. "Cancelled $36B LNG Project Was 'wake-up Call' to Industry, Says Energy Exec." CBC News, October 12, 2017. http://www.cbc.ca/news/canada/calgary/pacificnorthwest-lng-delays-petronas-1.4352004.

———. 2018. "Petronas Buys 25% Stake in LNG Canada, a Year after Scrapping Its Own Project." https://business.financialpost.com/commodities/energy/malaysias-petronas-to-purchase-equity-stake-in-lng-canada-project

The Financial Post, May 31, 2018. https://business.financialpost.com/commodities/energy/malaysias-petronas-to-purchaseequity-stake-in-lng-canada-project.

Zussman, R. 2018. "'A Spectacular Day for British Columbians': Premier Horgan Vows to Hit Climate Targets Even with LNG Emissions." News. Global News. October 2, 2018. https://globalnews.ca/news/4509526/a-spectacular-day-for-british-columbians-premierhorgan-vows-to-hit-climate-targets-even-with-lng-emissions/.